Rock N Roll Gold 16oz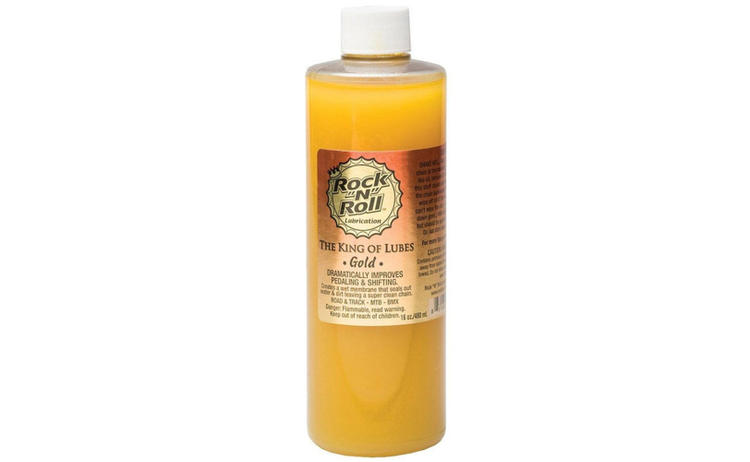 Rock n Roll Gold is by far our best selling chain lube of all time. Keep one in your pack, tool box or car and always run smooth.
A very clean chain lube that works and lasts and never lets you down. When the going gets tough this is the stuff. It has been specifically formulated, using a wax dissolved in a solvent. As the solvent evaporates it leaves behind a protective coating. Using the solvent, ensures that the coating is applied in even the smallest of spaces. It is this technology that has made King of Lubes the number one choice in the Australian bike market, and their "Gold" is simply their best offering, for both mountain and road bikes. .
A FEW TIPS!
Put the chain on the big ring in the front, and the small cog on the back.
Apply the lube on the chain, over the top of the cog. Let a nice flow of lube go onto the chain (don't be cheap). Remember you're going to clean and lube the chain in one step.
Freewheel the chain backwards, and wipe off all of the dirt and grit that comes up to the surface of the chain. Keep in mind, you can't wipe off the chain too much, so make that chain shine!
Shift the chain off the big ring, so you can wipe off the chain ring, to clean up the little bit of residue left behind.
For best results, allow your chain to sit a few hours or lube the night before. However, if right after lubing, you have to ride, you have to ride, so go for it. Giving the lube a chance to set gives the lube a bit more life by allowing the protective membrane to fully set-up. Remember, to wipe off you chain after riding regardless if you're going to re-lube or not. This keeps the chain clean and looking great!
Complete Bikes
Due to warranty and supply agreements, all bicycles must be collected from our store.
$15 FLAT RATE AUSTRALIA WIDE
$15 flat rate postage. Excludes bikes (pick up in store only) and heavy items. Postal addresses must be business or residential address, we cannot ship to PO Boxes. Please call us after if you have any special delivery instructions.
We endeavour to ship all orders placed before 3pm Mon-Fri on the same day. Any orders placed after 3pm, or over the weekend, will be sent on the next business day.
Delivery time is usually 3-5 business days from time of collection. Please allow an additional 1-2 business days for rural deliveries, depending on your area. These times are estimates only and may vary.
Please note that while we allow returns the item needs to be in as new condition and may incur a 20% restocking and/or we may on-charge freight if you have just changed your mind.
TRACKING YOUR PARCEL
When your order has been shipped you will receive an automated email confirmation containing your Shipping or Tracking number.
For Australia Post tracking numbers please follow the link below to track your parcel